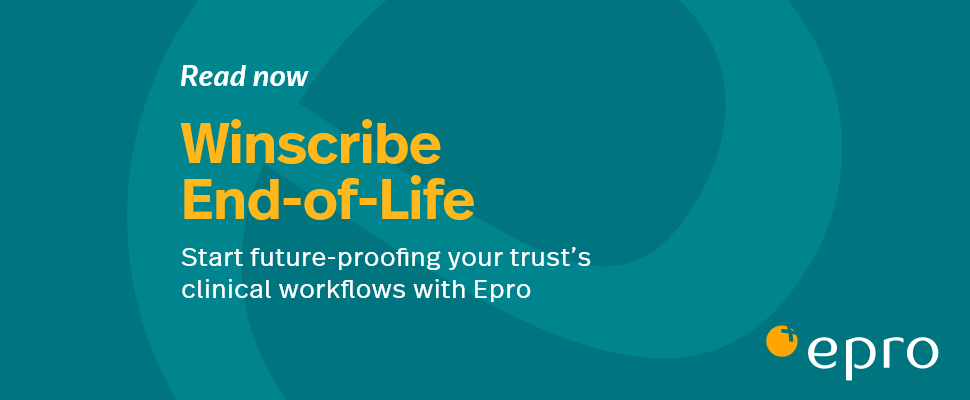 At the end of June 2024, Nuance's on-premise Winscribe dictation platform reaches end-of- life, marking the end of support and any further upgrades for the software.

As we know, migrating seamlessly to any new technology solution can take time and requires careful planning; particularly so when clinical productivity and potential patient safety is involved. And, with the number of trusts still using Winscribe in double digits, leaving your migration too late might expose you to not only time, but eleventh-hour resource constraints.

With a range of alternative dictation, speech recognition and clinical workflow solutions available, how can you decide which technology provider to work with?

Firstly, pick a technology partner that is focused, steeped in NHS history, and proven to understand NHS-specific workflows.

Epro has been established for over 20 years, was founded by an NHS clinician for NHS clinicians specifically to support clinical correspondence – and supports 13 NHS Trusts with their digital dictation, speech recognition and clinical workflows. We also have proven experience of transitioning Winscribe customers to our clinical communication platform and can offer quick implementation.

Secondly, make sure the technology is designed from a user-first perspective.

Epro offers flexible recording options and a mobile solution which gives the ability to work online or offline. Epro Speech is a custom-built clinical language model designed and pre- trained for specific specialties and organised in structured, clinical formats, allowing for faster communication and more efficient document creation.

Finally, make sure your technology partner provides agility and cost-effectiveness.

Epro offers agile pricing which will help your Trust achieve ROI quickly. Our team of product and project managers has a wealth of experience of working in and with the NHS, and can help you not only plan your migration thoroughly, but will also ensure successful onboarding and training of all your users – so no productivity is lost.

For more information and for an initial discussion and demo please contact Kat Hancock, Business Development Director, Kat@epro.com