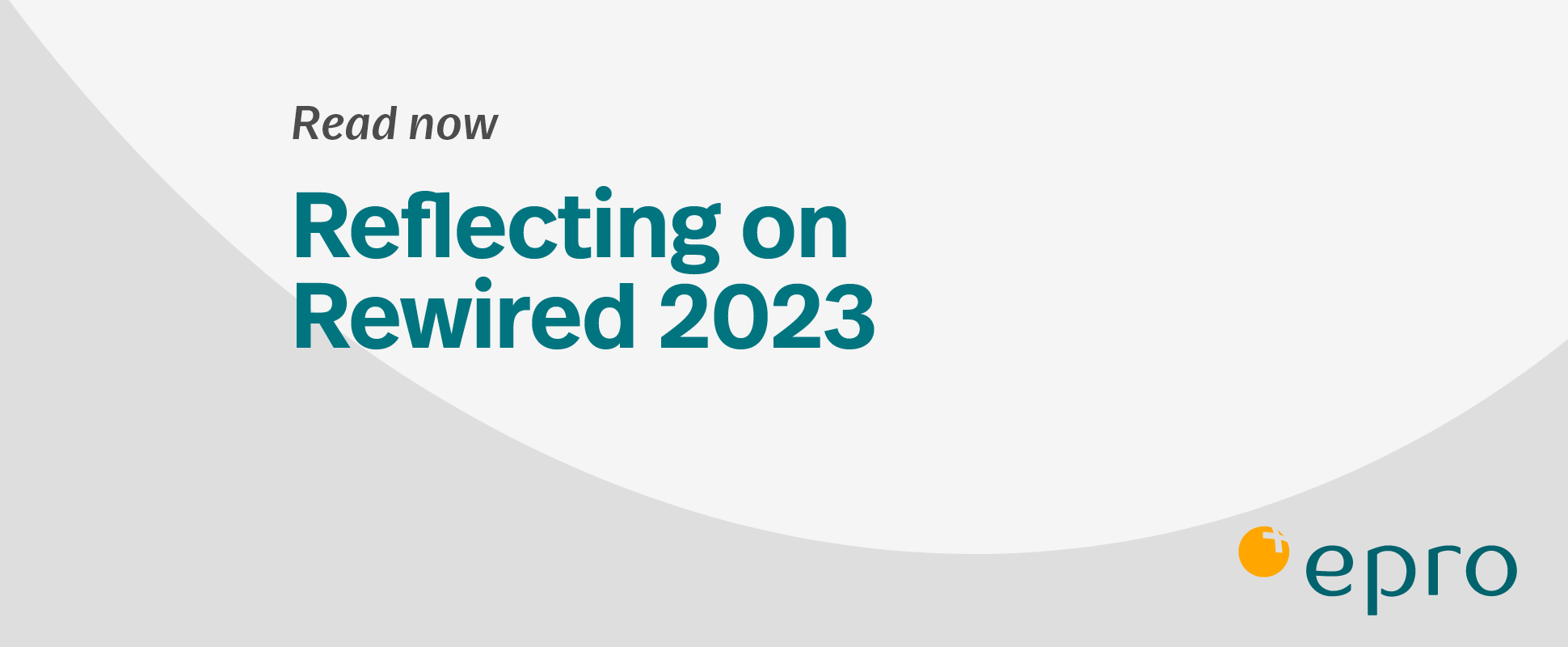 Our team was extremely excited to attend Digital Health's Rewired 2023 earlier this month, an event
that connects thousands of NHS IT leaders and professionals, suppliers, start-ups and many others
within the digital health community for an insightful two days of learning and networking.
Taking place across the 14th and 15th March at London's Business Design Centre, the event hosted
eight stages of continuing professional development (CPD) accredited content, displaying the latest
direction on national policy, cutting edge work from local health IT teams and the new phenomenons
making an impact across health services.

In a post-COVID world, this year's event re-emphasised what we already knew was the fundamental
value of in-person networking. In the absence of a stand, we – somewhat poetically – found great
success in using our mobile demonstration of our clinical correspondence mobile platform. With
around 3000 attendees on the first day alone, we were delighted to be able to engage with – and
receive extremely positive feedback from – a full spectrum of delegates, ranging from frontline
technical innovators and clinical stakeholders to directors of national policy and industry thought
leaders.
As always with these kinds of industry events, several valuable concepts arise as key takeaways.
Firstly, an overarching message that resonated with us was the vulnerability of digital transformation
budgets. Decision makers can't cut these budgets and not expect there to be a significant impact, and
a large majority of trusts unfortunately do not have the budget to invest in large-scale software
implementations in order to drive clinical productivity efficiencies and digital transformation.
Leveraging the resources and investments a trust already has and building on this was a key
message, along with the strong theme of partnerships. Suppliers and the NHS now know that they
must work together to be able to provide the best solution for optimal outcomes.

An additional and related theme that echoed across all stages and agendas was the importance of
unification in interoperability. Connectivity both streamlines the flow of information and organically
fosters collaboration amongst healthcare professionals to guarantee the most comprehensive care
possible for patients. The significance of seamless data exchange and interpretation between
providers was emphasised by speakers, with these perspectives being illustrated by compelling
patient narratives and nuanced case studies. As Dr Tim Ferris, Director of Digital Transformation, NHS
England said on the National Policy and Keynote stage, "It is not the technology, it is the workflows
and what you are doing with it that makes a difference."
Another key takeaway was usability. This is proving to be a cornerstone of translating software
features into sustainable efficiency gains. Many guests shared success stories of how clinician-friendly
interfaces and training have enabled staff to fully leverage the potential of the tools available.
Naturally, intuitive workflows enhance decision-making and internal advocacy for technology adoption.
The human aspect of healthcare should never be underestimated; and likewise, the human aspect of
digital change management will always be a priority.

We were also delighted that one of our Senior Developers represented our business at the Hackathon
event that ran alongside Rewired this year. The time spent with like-minded colleagues from across
the Healthcare landscape was invaluable and enabled an extensive amount of knowledge sharing and
networking, not to mention the opportunity to put together a fantastic solution over the course of two
days integrating data from multiple sources to create a virtual ward interface.
As we draw a throughline across the many dimensions and insights from Rewired 2023, the necessity
for pragmatic digital transformation in driving positive systematic change within the NHS remains
clear. By mindfully double-clicking on the recurring themes of clinical productivity, interoperability and
practical usability, trusted professionals can be enabled to make better, faster decisions and provide
holistic patient care for improved outcomes. As we continue to navigate the evolving landscape, the
Rewired event is a fantastic opportunity to learn more from our peers about the successes and
challenges facing digital health, and we look forward to showcasing how our mindful embracing of the
needs of our NHS partners has been reflected in the latest iteration of our clinical platform. We look
forward to next year's event in Birmingham.