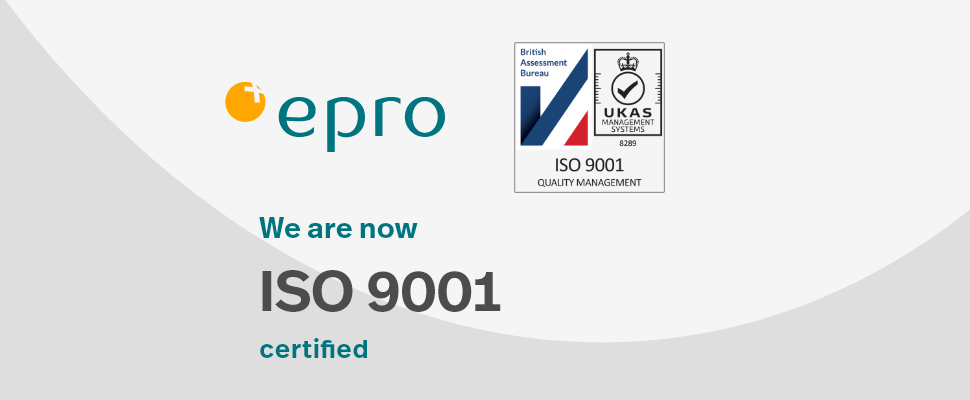 Certification reaffirms Epro's commitment to Quality Assurance
November 2023: The Epro team is delighted to be able to share the exciting news that, as of the beginning of November 2023, we have been awarded the ISO 9001 quality assurance accreditation, the internationally recognised standard for Quality Management Systems (QMS).
Following an intensive nine-month process, during which we undertook an extensive company-wide audit that involved the development of a quality management system, the review of management system documentation, formalisation of processes and a pre-audit assessment, we underwent the formal accreditation audit on Monday 30th October. This was followed by confirmation less than 48 hours later that we had passed with flying colours, which we are – of course – ecstatic at.
Jonathan Elliott, Managing Director, Epro comments, "Quality really does sit at the heart of our values; whether it's supporting our clinical users in having access to the right patient information at the point of care or ensuring the seamless generation of high quality clinical correspondence, or – at the highest level – ensuring our NHS clients are supported by digital tools that are designed for the NHS by NHS clinicians.
"Achieving ISO 9001 is a testament to this dedication to quality. Both from a product design perspective, but also in terms of how we support our clients in getting the maximum benefit from our solutions through best practice processes and continuous training and support. I have always been proud of the exemplary team we have here at Epro – and this accreditation reaffirms that this is a seam that runs throughout our entire organisation."